#newheimix | Solution | Key Facts | Case Study
Our followers on social media know the challenges that can arise from manual shaking. That moved us to the idea of combining this step with a little more fun. Therefore, we asked our Instagram community to send us creative and funny vortexing videos. The result was a mix of great ideas and funny stories. We have compiled and combined all those videos for you to enjoy again. We thank all participants for the many smiling faces here at Heidolph Instruments and on Instagram
---
Thanks to its patented system, the new Multi Reax can vortex up to 26 vessels of different sizes at the same time. The Multi Reax guarantees excellent homogenization of all substances and mixtures because of its strong and low-maintenance motor. Whether emulsifying or suspending, this shaker is the ideal solution for lightning-fast mixing in test tubes, Eppendorf caps and similar containers. With its built-in timer and built-in overheat protection, the Vortexer can be used in unrestricted and unattended continuous operation. We have compiled and combined all those videos for you to enjoy again.
---
Attachment for 26 vessels from 10 to 16 mm Ø
Attachment for 12 vessels from 16 to 32 mm Ø
Patented highly flexible system for different vessel sizes simultaneously
Infinitely variable from 150 to 2,000 rpm continuously
3-mm vibration orbit for excellent mixing results
Integrated timer for up to 999 minutes
IP 30 protection class according to DIN EN 60529
---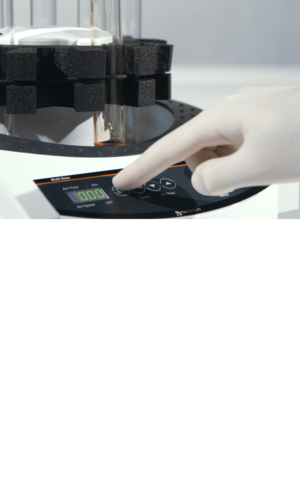 In this case study, we want to introduce you to Rose (name edited). Rose is a lab analyst and her position requires her to vortex 25-50 samples per day. The vessels are filled up to 90-95% of the working volume of 50 ml and the samples are a liquid on liquid aliquots, that reply strong vortexing to homogenize. Unfortunately, Rose struggles with a carpal tunnel syndrome, making it nearly impossible to complete her daily tasks.
Rose reached out to Heidolph Instruments, asking if they had a solution for her. After our application specialist had looked over her requirements, the solution was clear - a Multi Reax Shaker could help Rose out. So one of our application experts visited Rose at her lab, to ensure the Multi Reax was handling her demanding application.
After letting several analysts run various samples on the Multi Reax with great results, they were very impressed about the device. The Multi Reax Vortexer was able to handle all the different samples easily, thanks to its extremely high speed rates and its 3 mm mixing orbit. Rose is a glad customer.
"The Multi Reax is working great for us, I am very pleased." she says.