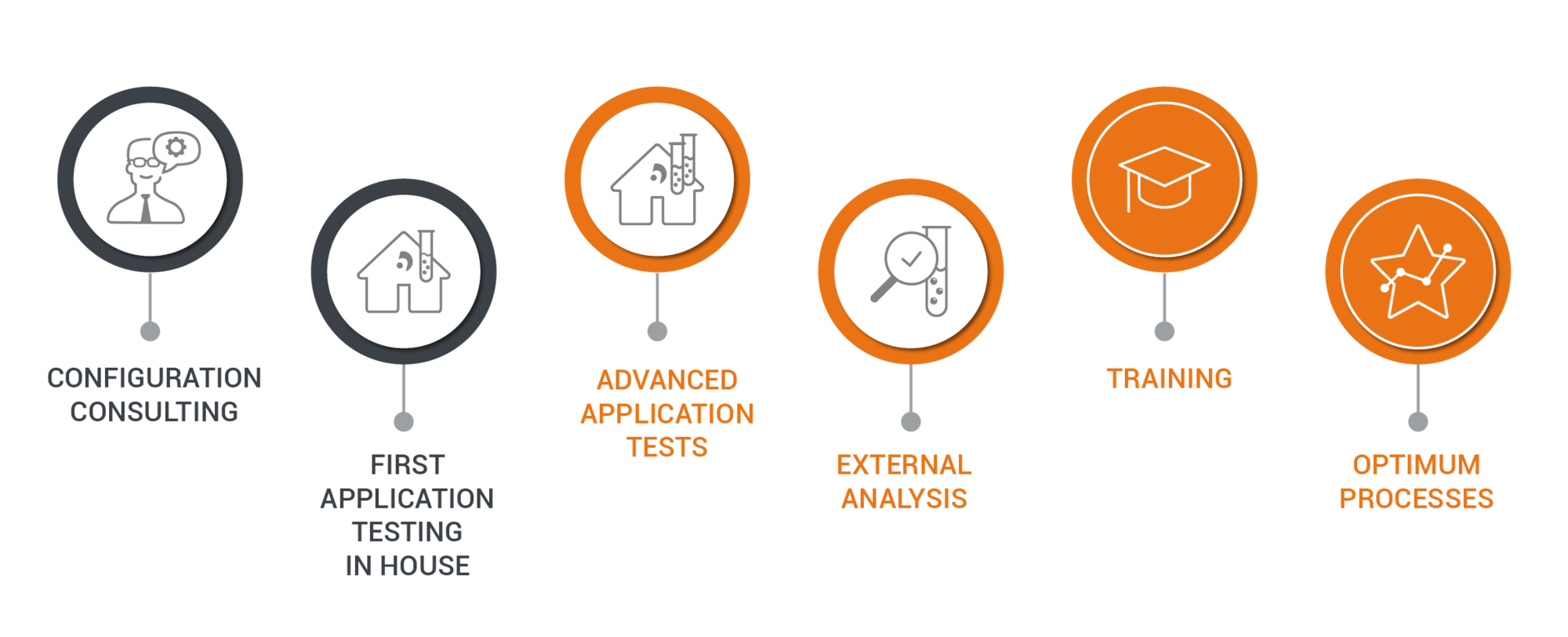 1. Pre Sale
for customers & potential clients

The initial application consulting is aimed at all those, who would like to compare all requirements of their project with the range of services of Heidolph Instruments before purchasing a new device. We take your application requirements individually and check which combination of devices can optimally fulfill these requirements. We will check the first basic conditions, for example:

which substances should be processed
which volumes should be processed
processes should be automated
which safety standards must be adhered to
In the course of the initial application consultation, our experts carry out a first theoretical feasibility check for your application.
Application consulting is free of charge for all customers and interested parties.
for customers & potential clients

To examine the theoretical feasibility from the initial application consultation, we carry out a free application test with your original product in our laboratory. In this way, we practically test the fulfillment of your requirements, here in Schwabach. After the first application test, we can also make initial estimates of process times, throughput rates, and the quality of the final product.
The first application test is free for all customers and interested parties.
Request application test

optional & individual

If required, we offer additional application tests in our laboratories. We orientate ourselves at your requirements and accord to the parameters, you specify.
The cost of the optional additional application tests depends on the scope and requirements. We are happy to make you an individual offer - ask for your extended application tests now:

Request your quote
for verification

We offer you the opportunity to have the materials and substances from the application tests analyzed externally. For example, this external analysis can check the chemical

composition of the final product. On the other hand, you can order one of the following tests:
Determination of viscosity according to Brookfield
Determination of the residual moisture according to Karl-Fischer
Determination of solvent content by gas chromatography

If necessary, we will make you an individual offer and take over the organization of the external analysis. Furthermore, it is of course also possible for you to test the samples yourself. We will send you the samples on request, too.
2. After sale
work sucessfully from day one

Once your new premium laboratory device has arrived, we will gladly assist you with commissioning and offer individual application training courses. We address the individual requirements of your application and train you in handling your Heidolph devices. Application training ensures that you and your employees can successfully work with our equipment from day one.
Our experts will gladly prepare an individual offer for your application training:
Request training

maximum performance

Your application requires maximum performance with short process times, precise separation and minimal costs? Then, with your decision to invest in Heidolph Instruments, you have already created an optimal basis for fulfilling your requirements.
Our application specialists will adjust your newly installed devices to the optimum. We can also assist with increasing the performance of already existing processes.

Request quote